What is CartoGraf?
WELCOME to LEARN's installation of Cartograf!
Notez que ce n'est pas la même que le RECITUS Cartograf ici!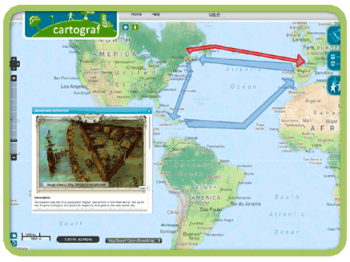 What is Cartograf? It is an
open-source
, interactive mapping and drawing application. Students and teachers can create and share maps, collect and analyze images, and work collaboratively on class projects! See also our
Tech info pages to install your own?
HOW TO MAKE A CARTOGRAF MAP ?

Visit the help page for instructions and video tutorials on Creating Maps, Navigation tips, Drawing Tools, Pinning
documents
, and on Collaborating with others.
Click here to visit our HELP page!
IMPORTANT Note to teachers!:
Please contact me
prombough at learnquebec.ca
if you are a teacher or project leader using Cartograf for professional purposes. This is to ensure your work does not get deleted after a fixed period of non-use.
TEACHERS AREA for tips and tricks

Create Cartograf learning scenarios (see some sample at right). Explore various advanced image and formatting functions. Learn how to print maps and documents for offline use!
CLICK HERE to visit our teachers' section
REQUIREMENTS, bugs, TROUBLESHOOTING:
If anything goes wrong... click the
HOME
link at top! Then go back into your saved map.
Other notes:
A modern computer browser works best: Microsoft Edge, Safari 8+
(Internet Explorer 10/11 & Firefox have issues
only
with the image editor.)
On tablets you may need to first "
Request the Desktop version
". Also, to place points on tablets you must zoom very, very, very (did I say very?) close, and then use a two-finger click.
Public Map Scenerios
Check out some summer Cartograf mapping projects:
Fit&Grit
Fit&Grit were a crazy bunch of students and educators riding the ring of the Gaspé. Check it out at
http://tiny.cc/fitandgrittmap
We posted their tweets and started marking the historic and geographically significant sites they passed.
Paddlinghome 2015
Benoit, Magali & Mali
paddled from Edmonton to Quebec
along routes of voyageurs.
Click here for their map.
SAMPLE MAPPING SCENARIOS in English
All Levels
SCÉNARIOS EN FRANÇAIS
FLS
Géographie
---