A Cartograf map project in progress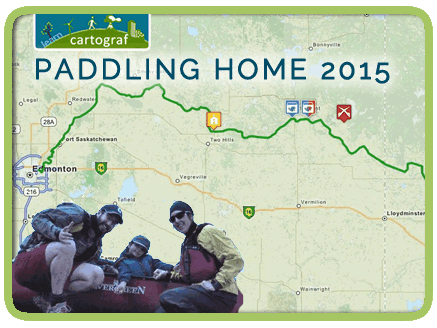 Over the summer Benoit, Magali and Mali canoed home from Edmonton to Quebec, along the original routes taken by coureurs des bois and voyageurs! They passed various important historical sites, and
LEARN
LEARN followed along, as learners of history and explorers of our past and present.
A
Cartograf map
was being constructed as they went, one that will eventually list various key sites on and around their route. To support the various Quebec history programs, we marked key locations important to the expansion and eventual decline of the fur trade, important political and cultural locations (battles, missions, etc.), and as they approached Quebec other types of locations were and will be added, sites important to the expansion of industries such as timber and agricultural.
The
Paddling Home crew
graciously agreed to share that experience with us, by passing on the occasional photo of what these key sites look like now!
CLICK HERE TO VIEW THE CARTOGRAF MAP IN PROGRESS
(Close the description and zoom in to open locations already there!)
For more information view their intro video:
And visit
http://paddlinghome.weebly.com
for more information and a chance to donate!