What is Cartograf?
WELCOME et BIENVENUE to Cartograf !
Cliquez pour la version française.
. Notez que la version de RECITUS est fermé et vous avez besoin de créer un nouveau compte ici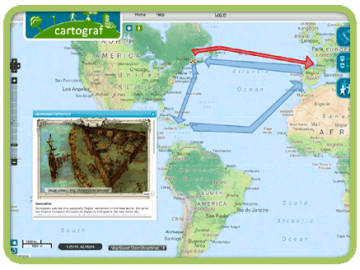 WHAT IS CARTOGRAF? Qu'est-ce que Cartograf?
Cartograf is an
open-source
, interactive mapping and drawing application built for students and teachers in Quebec. Anyone can create and share maps, collect and analyze images, and work collaboratively on class projects! Cartograf is not meant for corporate use. See our
Tech pages to install your own?
.
HOW TO MAKE A CARTOGRAF MAP?
Visit the
Help/Aide page!
page for instructions and video tutorials on Creating Maps, Navigation tips, Drawing Tools, Pinning
documents
, and on Collaborating with others.
Oui! Cartograf est aussi en français !
Notre site fonctionne maintenant en anglais et en français. Si vous ne voyez pas les menus supérieur et latéral en français, vous pouvez changer de langue à l'aide des liens FR en haut.
Image, Icons and other Credits
Please visit our the bottom of our
Contact
page for information and specific licenses regarding some of the icons and graphics we have used.
Public Map Scenarios in English
Tour a few of our sample mapping scenarios below. They can be used as they are in your classes, or they can provide models for
teachers
to use while preparing their own scenarios for student use.
All Levels
SCÉNARIOS EN FRANÇAIS
Cliquez ici pour nos Ressources publiques en français.
OTHER CARTOGRAF MAPPING PROJECTS: