What is CartoGraf?
WELCOME to LEARN's installation of Cartograf!
Notez que ici n'est pas la même installation que
RECITUS Cartograf ici!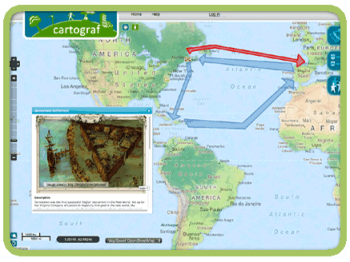 WHAT IS CARTOGRAF?
Cartograf is an
open-source
, interactive mapping and drawing application. Students and teachers can create and share maps, collect and analyze images, and work collaboratively on class projects! See also our
Tech info pages to install your own?
HOW TO MAKE A CARTOGRAF MAP?

Visit the help page for instructions and video tutorials on Creating Maps, Navigation tips, Drawing Tools, Pinning
documents
, and on Collaborating with others.
Click here to visit our HELP page!
~~
TEACHERS

Create Cartograf learning scenarios like the samples at right. Explore advanced image and formatting functions.
CLICK HERE to visit our teachers' section