Teacher's Scenario
Simple Map of Mexico
(by T. Klankar at CQSB)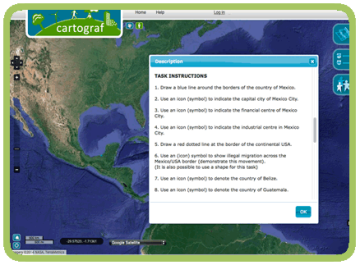 GOALS & DESCRIPTION
To review simple mapping skills learned in secondary one.
To begin to explore issues related to the development and growth of an urban territory.
Students will locate then map Mexico and various zones in that country. They will use basic icons to label the map of Mexico according to instructions, their findings, and their observations.
For certain tasks students should start by researching the included resources. Student can also switch to satellite views and use the Panorama Streetview feature to identify where office buildings and factories are located.
ACCESS & DUPLICATE THIS MAPPING SCENARIO BY
CLICKING HERE