Teacher's Scenario
Montreal & New York (transportation, economy)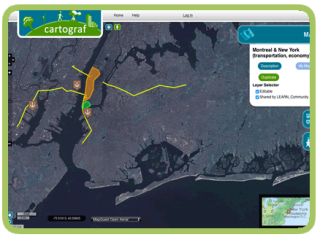 Guiding Questions:
How does the way Montrealers get around impact on the economic development of their city?
How does Montreal compare to New York city in this regard?
Tasks include:
Using Cartograf and included resources and documents to Identify and interpret transportation routes & economic areas of New York City. Students then do the same for Montreal, creating a simple map to illustrate and explain their findings. Finally, students compare the two cities.
ACCESS & DUPLICATE THIS MAPPING SCENARIO BY
CLICKING HERE