Teacher's Scenario
Quebec City as Heritage site
Create your own tourist map for Quebec!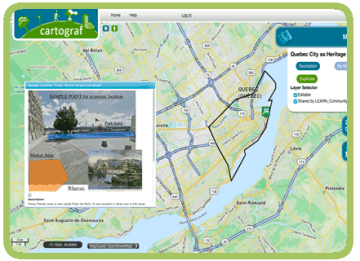 In this scenario you will create your own
tourist map
for Quebec!
Using the instructions and resources provided, you will locate, describe and explain some historically important sites in Quebec. For the purposes of this project, downplay the negative sides and issues, and promote why Quebec
should
be on the Unesco list.
You will start by brainstorming what you know already, naming some key locations. You will create your map's legend according to the kind of locations you plan to highlight, then you will research different types of sites (Economic, Cultural, Military, etc). Throughout the scenario you will perform various Intellectual Operations, such as Place in time and space, Consider factors and consequences, etc.
ACCESS & DUPLICATE THIS MAPPING SCENARIO BY
CLICKING HERE