(This scenario was originally by le RECITUS])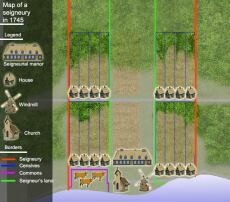 Download these instructions and teacher guide at:
SeigneuryEN
Traces of a feudal system today
In New France, the colony was divided into large tracts of land, long and narrow, facing the St. Lawrence River or other waterways. The territory was organized in this way because the rivers were necessary for agriculture and to help people communicate.
The land was first given to the seigneurs by the governor and the intendant. On the seigneury, the seigneur kept an area where he cultivated the land and built a manor house. Close by, he reserved a portion of land for the parish church. A few years later, merchants, craftsmen and a notary would establish their homes near the church. A village was born.
Everywhere in Quebec, even on Orleans Island only a few miles from Quebec City, one can still easily observe traces of this feudal system today.
Key Concepts list :
Church, Farm, Agriculture, Manor, House, Censive, River, Road, Cemetery, Seigneur, Censitaire, Religion, Lifestyle, Barn, Stable
Instructions:
Use the map viewer for "Google Satellite"
(in dropdown menu at bottom)
1- Click on the different marker points (icons on the map). Then you must make notes on these photographs by referring to the key concepts.
2- Still using the key concepts provided, use the drawing tools and additional markers if needed to identify and sketch some visible traces of the feudal system right on the satellite image.
What is the seigneurial system?
3 - In a few words, explain what exactly the seigneurial system is and how it works. Use the provided Concepts and your notes!
Note: You can duplicate this map and edit this description and add your answer here if you wish!
To know more:
Clearing the land for settling: arriving on a seigneury
Seigneurs and censitaires
Home makes the man